Submitted by Kim Illarietti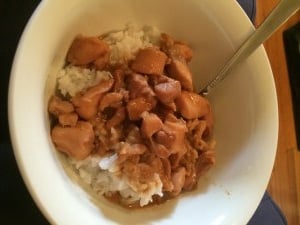 Sweet crunchy chicken
Ingredients
Approx 1.5kg chicken thigh fillets, trimmed and roughly chopped to bite size pieces

1/2 cup soy sauce

1/2 cup crunchy peanut butter

1/2 cup sweet chilli sauce
Instructions
Heat marinade ingredients together to combine

To feed my family of 5 (2 adults 3 teenage sons) I do about 1.2-1.5kg chicken and we have some leftovers, and about 1/2 cup of each marinade ingredient to go with this. I only have to use about half the marinade and the rest I use to season fried rice.

I did it for about 4 hours on low/auto in the slow cooker.

You can do this in the oven and marinade in the fridge for about 40 minutes before cooking in the oven for about 40 minutes. When using the slow cooker I don't marinade in the fridge beforehand as it marinades as it slow cooks.