Submitted by Robyn Clark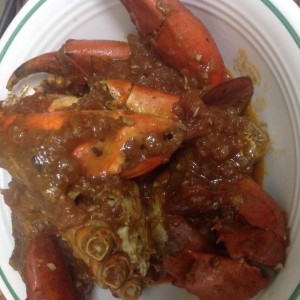 Sweet Chilli Mud Crab Soup
Ingredients
2-4 mud crabs

1 large diced onion

2 teaspoons chilli powder ( or 2 small red chillies)

2-3 Tablespoons vegetable oil.

2-4 Tablespoons minced garlic ( 2-3 cloves)

1/4 cup Hoisin sauce

1/3cup tomato paste

1 teaspoon ginger paste

2 teaspoons coriander ( or use fresh)

1/4 cup sweet chilli sauce

4 chopped ripe tomatoes

1 tablespoon soy sauce

2-3 tablespoons sugar

2 cups water

Salt and pepper.

Cornflour to thicken if needed.
Instructions
Pure the onion , oil and chilli together. Fry off until onion is clear.

Place all ingredients in your cooker and allow to cook on high 2 hours so all the flavours are blended well. At this point add extra of whatever it needs , I don't though , but you may want more sugar or chilli etc.. Crack the mud crab claws and cut the main bodies in half . Add to the cooker and cook on high until they turn orange. ( you can boil the crabs and then crack them and add to the cooker , cook on high around 1-1 1/2 hours so the flavour of the crabs goes through the soup).

##### New wave users, use the browning button for the onion , chilli and oil. Then switch to soup and cook with airtight on 25 mins. Add the mud crab pre cooked and cracked and then re heat when ready.( I pre cooked the crab so it wouldn't scratch the bowl ).