A creamy satay sauce for your sausages
Submitted by Paulene Christie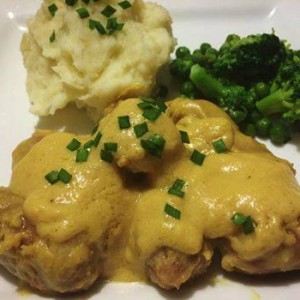 Creamy Satay Sausages
A creamy satay sauce for your sausages
Ingredients
12 thin beef sausages

300ml reduced fat cooking cream (I used Nestle Carnation 'lite' cooking cream)

1 cup peanut butter (smooth or crunchy)

1 tsp curry powder

2 tbsp. sweet chilli sauce

1-2 cups water (see *notes in method)
Instructions
Cut sausages into 3rds and place in slow cooker.

I did not brown or pre cook them in any way - but you can if you really want to.

Combine cream, peanut butter, curry, sweet chili sauce and 1 cup water.

Pour over sausages and cook on LOW for approx. 4-5hrs.
Notes
I noticed that at approx half way point the sauce was reduced and thick, so at this point I added a second cup of water. However all slow cookers can vary in heat so if yours does not reduce you may not need the second cup of water. If in doubt add it, you can always thicken at the end )

This produced a thick, almost fluffy (for lack of a better word),satay sauce that was not spicy and was suitable for children and adults alike.