Submitted by kerryn robilliard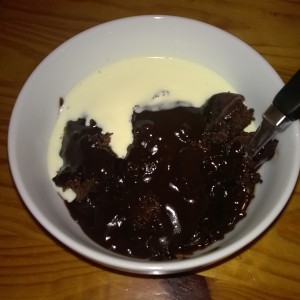 Super Easy Gooey Chocolate Pudding – 1.5L slow cooker
Ingredients
1 cup self raising flour

1/2 cup white sugar

2 tblsp cocoa

1/2 cup milk

2 tblsp oil

1 tsp vanilla

1/2 cup chopped nuts (optional)

3/4 cup packed brown sugar

1/4 cup cocoa

1 1/2 cups hot water
Instructions
Spray small slow cooker bowl or lightly grease.

Combine flour, 2 tblsp cocoa, white sugar in a bowl.

Mix in milk, vanilla and oil until smooth. stir through nuts.

Spread evenly in slow cooker bowl.

Mix brown sugar, cocoa and stir in hot water until smooth.

Pour evenly over batter.

Cook for 2.5 hours on high (check at 2 hours) until toothpick comes out clean.

*NO tea towel under lid.

*Do not up end this once cooked. The liquid hides under the cake, is very hot, and gushes out after the cake comes out. It will splash and burn!!

*Made with 1.5 litre slow cooker.