Submitted by Robyn Clark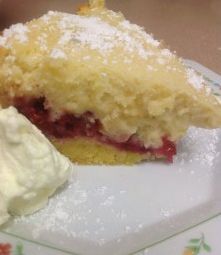 Berry Custard Cake
Ingredients
Base :

1 packet vanilla cake mix

1/2 cup butter , melted

1 egg

1 tablespoon lemon zest ( can use orange zest )

Few drops of yellow food colouring ( or orange etc...)

Mix all together by hand and mould into your lined and greased SC. Prepare the filling.

Filling:

3 eggs

1 1/4 cups sugar ( I used castor)

1/2 cup Plain flour

3 Tablespoons cornflour

3/4 cup sour cream

1 tablespoon lemon zest ( or orange etc..)

1 cup berries ( your choice, I used frozen raspberries )
Instructions
Base ...

Mix all together by hand and mould into your lined and greased SC. Prepare the filling.

Filling ...

Beat the eggs and gradually add the sugar and beat until light and fluffy. Beat in the flours . Then add the sour cream and mix. Fold in the berries and zest.

Pour the mixture on top of the base , cover with a tea towel . Cook 1 1/2 hours on high and then turn to low for approx another 30 mins.

It's done when the edges are brown and the centre jiggles a little bit when you shake the cooker. Allow to cool in your cooker about half an hour with the lid on and then lift out using the baking paper .

Cut into slice size and decorate to serve.