Submitted by Chantel Alway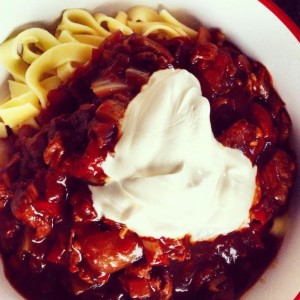 Beef Goulash
Ingredients
Here goes:

300ml beef stock

1 red onion diced

2 gloves garlic crushed

1 red pepper diced

1tsp mixed herbs

1tbsp paprika

1tbsp white wine vinegar

400g tin chopped tomatoes

Diced beef (however much suits your family)
Instructions
Brown the beef off in coconut oil first, then place alongside everything else in the slow cooker.

Serve it on a bed of tagliatelle, with a dollop of sour cream on top. Works really well with it.

Normally I cook it for 4hrs on high, but can be 8hrs on low.