We love slow cooking here at Slow Cooker Central!
Admittedly we like to slow cook pretty much everything 🙂
However in times when money to purchase kitchen gadgets may be limited and bench space may also be restricted, a kitchen device like the Sunbeam Aviva 6L Multi Cooker that not only slow cooks but pressure cooks, steams, browns, sautes, simmers and cooks rice as well – all in the one compact machine – is VERY exciting!
I couldn't wait to get started putting it through its paces 🙂
My first impression was what a beautiful machine.
A shiny silver space-like pod of buttons and gleaming metal.
I am thrilled to say that using it isn't anywhere near as hard as it may look. So easy to use and looks super stylish in your kitchen space.
The Aviva features:
– Safety locking lid (for use in all modes except the Frypan modes – brown, saute and simmer)
– 6L capacity removable non stick cooking pan
– Cool touch handles
– Easy to use control panel
– Capacity markings inside the cooking pan to guide how far to fill it safely
– Non slip feet to keep the unit secure on the bench top during use and prevent bench scratching
– Pressure and steam release valve
It also arrives with 4 great inclusions.
– Rice spoon
– Serving spoon
– Cooking rack that is also suitable for steaming
– Rice measuring cup as rice cup measurements are not the same measurements as metric cups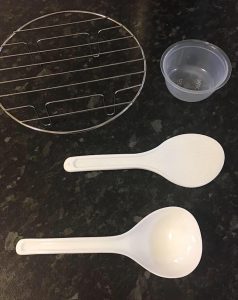 The Aviva Control Panel:
At first glance this panel looks complex but I was impressed with how simple it actually was to operate!
At a glance you can easily see what cooking method you've selected and the progress of your programmed cooking time.
The lights indicate if your unit is in cooking or warming mode and it also flashes if it's still gaining pressure or heat prior to beginning cooking.
The large, easy to read clock display will show remaining time when in the cooking mode, or elapsed time when in the keep warm mode which is great.
The lights remain illuminated when the power is switched on and the unit is in use.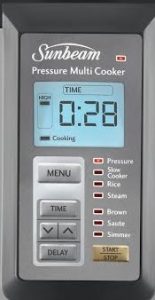 The Aviva Cooking Modes:
You can use your Sunbeam Aviva 6L multi cooker as a slow cooker, pressure cooker, rice cooker, steamer or frypan.
Frypan includes brown, saute and simmer modes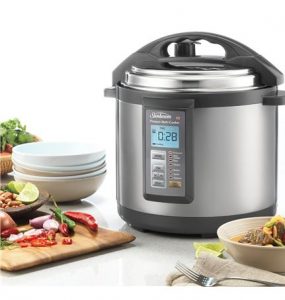 SLOW COOKING MODE
Not surprising this was the mode we were most excited to try!
The 6L cooking bowl is a great size to feed a family with and the non stick coating didn't disappoint.
The slow cooker mode has two heat options: LOW and HIGH
Sunbeam state that typically 1 hour of high = 2 – 2.5 hrs of low
I found the unit great for both short and longer styles of slow cooking recipes and it kept to what I consider to be standard cooking times and temperatures which is great!
The maximum programmable slow cooking time is 9 hrs and the minimum is 30 mins – both in 30 minutes increments.
Note: The unit cannot work without liquid so ensure a minimum of 250ml of liquid is used within the cooking pan. Do not use this unit for dry slow cooking as you can do in some others. It also does require the lid to be locked to commence cooking so isn't suitable to use with the tea towel method of slow cooking.
However those two things aside this was a fantastic unit to slow cook in!
A great feature of the Aviva that many slow cookers don't include is the KEEP WARM setting. When your cooking time elapses this unit automatically switches over to keep warm mode. This prevents your food overcooking but also keeps it at safe warming temperatures until served. It will stay in this mode for up to 4 hours.
You can lift the lid during cooking to check on its progress for those, like me, who like to have a little peak as things go along. Naturally some heat is lost when you open it so it's best to try to resist doing so too often during the cooking time.
I especially liked that the cooking bowl has capacity markings on the inside of it. When slow cooking you can fill it to the MAX PC marking. Food that expands during cooking though, like legumes, should not go above the 3/5 mark.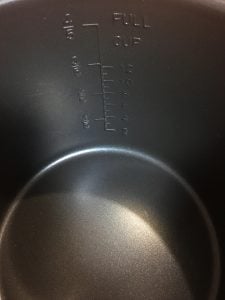 PRESSURE COOKING MODE
Pressure cooking is the opposite of slow cooking – FAST! Generally 1/3 the cooking time of conventional methods.
The sealed unit with the safety lid retains steam and builds pressure, raising the temperature of the liquid inside the pan above boiling point, resulting in reduced cooking times.
The safety lid has several built in features to keep you protected while cooking in this mode. Pressure will not build unless the lid is not only shut correctly and sealed but it also must be locked in the LOCK position. The lid will also not open until the pressure has first been released. This can occur naturally by letting it gradually do so itself or by using the quick steam release valve that's designed to be easily flicked while keeping your hands away from the releasing pressure.
The pressure cooker requires liquid to work and will move to error mode if it becomes dry. It must have a minimum of 250ml of liquid to operate.
The HIGH pressure cooking mode is 70kpa and is suitable for a wide range of foods
The LOW pressure cooking mode is 30kpa and more suited to delicate food like chicken fillets, fish and some vegetables
The minimum programmable cooking time is 2 minutes and the maximum is 2 hours
The KEEP WARM works the same as in slow cooker mode, keeping food warm but not cooking, for up to 4 hours.
RICE COOKING MODE
This mode is suitable for all types of rice including white, brown, short, medium and long grain rice.
The rice menu cooks under pressure for faster cooking.
Always use the rice measure cup provided as they are not the same measurements as a metric cup.
A rice cup is approximately 2/3 of a standard cup measure.
In the rice menu the maximum capacity is the 12 CUP marking inside the bowl.
The minimum programmable rice cooking time is 2 minutes and the maximum is 40 minutes.
It will also activate KEEP WARM mode for up to 4 hours after cooking time has elapsed though avoid keeping warm for too long as its quality and texture will deteriorate.
1 cup uncooked white rice = 2 cups cooked white rice
1 cup uncooked brown rice = 2.5 cups cooked brown rice
The Aviva User Manual has a fantastic cooking guide chart for all your rice cooking needs too!
STEAM MODE
The steam mode is perfect for gently steaming fish and vegetables.
The Aviva comes with a cooking rack to place your food on during cooking.
When steaming the liquid used should not reach the height of the rack so that the liquid doesn't touch the food.
Minimum programmable cooking time for steam mode is 1 minute and the maximum is 30 minutes.
As steamed food is delicate there is no keep warm mode in this function.
BROWN, SAUTE & SIMMER (FRYPAN) MODES
The frypan mode has 3 heat settings brown, saute and simmer.
This is a fantastic feature to use prior to slow cooking or pressure methods.
Brown is the highest heat and as the name suggests is great for browning meats. Saute is a medium heat suitable to saute onions etc. Simmer is a lower temperature just below boiling so is great to gently simmer sauces.
The frypan modes don't cook under pressure so does not require a lid.
No time setting is needed for these modes and no keep warm option is available for these either.
These modes are great to use to thicken sauces etc at the end of slow cooking modes too!
---
TIMER DELAY FEATURE
The Sunbeam Aviva 6L Multi Cooker has a timer delay start available for pressure cooking, slow cooking, rice and steam menus only. It allows you to delay the start of your cooking so that the cooking finishes when you need it to.
PLEASE NOTE: Do not use the timer delay when the recipe has perishable ingredients such as meat, fish, eggs or dairy as these may spoil (as noted in user manual and agreed by Slow Cooker Central to be very important!)
An example of where it may work well is to delay start your rice cooking.
---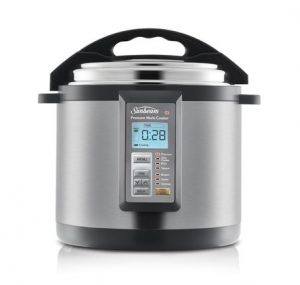 ADDITIONAL NOTES
This Sunbeam product is covered by a 12 month replacement or repair warranty.
Cleaning of your unit should be in warm soapy water and dried thoroughly before storing and usage.
Some foods that are not suitable for pressure cooking are noted in the user manual
The Aviva also comes with trouble shooting guides and great user charts.
The user manual is also packed full of great recipes to get you started with your new unit too!
You can also read more about the machine on these Sunbeam product pages:
Sunbeam Australia
Sunbeam New Zealand
No time like the present to get cooking 🙂
___BELOW COMPETITION NOW CLOSED _______________________
Our lucky winners are:
– Keryn Campbell
– Jill Autridge
– Bethany Allen
– Colleen Snibson
______________________________________________________
On that note …..
We have some exciting news for you!
The good folk at Sunbeam are giving us FOUR of these amazing units to giveaway ?
You could be cooking in one of these amazing Sunbeam Aviva Multi Cookers soon too!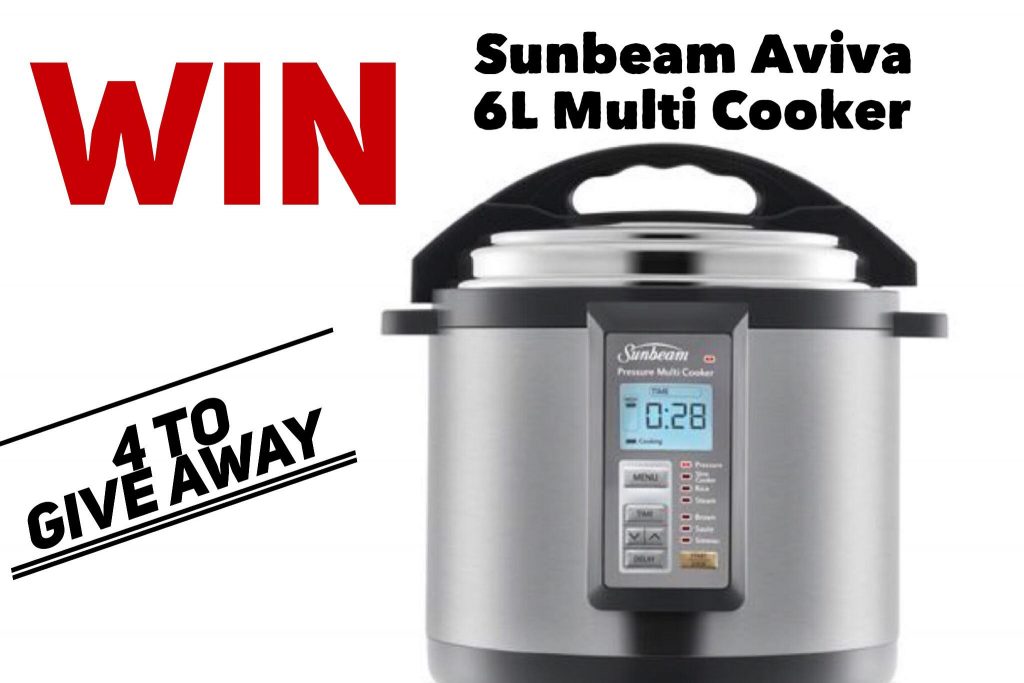 Competition open to Australian and New Zealand residents only
Prize:
4 winners will each receive 1 x Sunbeam PE6100 Aviva™ 6L Multi Cooker
2 winners will be chosen from Australia and 2 winners will be chosen from New Zealand
Competition Dates:
Competition open from Friday the 20th January 2017 to midnight Wednesday the 8th February 2017 AEST
Winners will be notified on this blog, on a post in our Facebook Group and by email provided on entry – prior to February 15th.
Prizes will be dispatched direct from Sunbeam.
To enter:
To enter this great competition simply complete below your name, phone, email address, country and your answer to the following question:
The PE6100 Aviva™ 6L Multi Cooker has 7 fantastic settings including Pressure Cooker, Slow Cooker, Rice Cooker, Steam, Brown, Sauté and Simmer. Tell us how you would use all 7 functions over a week, the most creative weekly menu will win!
It's that easy to win ?
Good luck!
Competition is now Closed