Submitted by Lisa Casey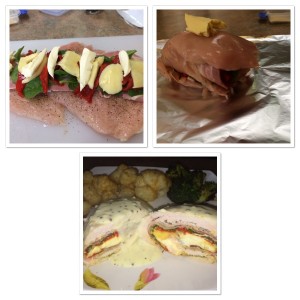 Stuffed chicken
Ingredients
2 chicken breasts

2 slices of bacon

Handful of baby spinach

Roasted red peppers from a jar

Slices of mozzarella

Chunks of cream cheese

Garlic salt

Cracked pepper

2 dollops of butter
Instructions
Butterfly the chicken and flatten with a Mallet over cling wrap, season with garlic salt and pepper.

Layer the rest of the ingredients and shown in photo.

Roll up tightly and carefully.

Put a dollop of butter on top,

Wrap in alfoil and then place in SC on low for 5-6 hours.
Notes
A creamy whole grain mustard and garlic sauce is lovely with this dish. Just heat cooking cream in a saucepan, add 2 tbs of whole grain mustard, 1 ts of crushed garlic, cook and stir until nice and thick. Pour over chicken and enjoy.