Submitted by Anette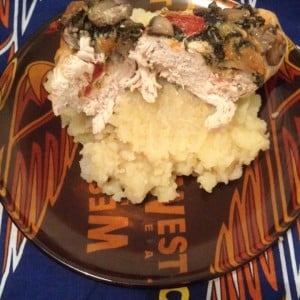 Stuffed chicken breast
Ingredients
2 chicken breasts

2 handfuls of baby spinach

parmesean cheese (shredded)

100g sliced mushrooms

diced tomato

3/4 cup chicken stock

sliced camembert cheese

2tsp crushed garlic

salt and pepper to season
Instructions
Slice chicken breast in the middle to create a pocket. Be careful not to slice through the top, bottom or other side. season chicken if desired

Heat fry pan and add baby spinach, mushrooms and garlic until mushrooms are softened and the spinach is wilted (approx 3 - 5 minutes)..

While the spinach mixture is cooking place Camembert cheese and tomato into the pocket created in the chicken breast. Spoon the spinach mixture into the pocket. Place the chicken breast into the fry pan to brown (optional).

Pour 3/4 cup stock into base of the slow cooker and then place in the chicken breasts with the pocket opening facing upwards. Add any extra spinach mixture and a sprinkle of Parmesan cheese. over and cook on low for 5.5 - 6 hours on low (3 hours high)

Cooked in 5.5L slow cooker.

If you wish the chicken to poach more than bake add up to 1.5 cups of stock. You can also add a little white wine if you enjoy that taste

Serve with Mash Potato and Veg.