Submitted by Robyn Clark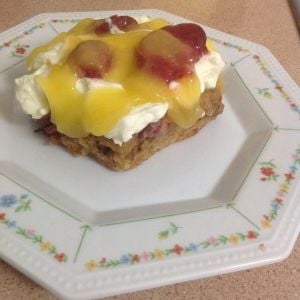 Strawberry / Lemon Cake Bars
Ingredients
2 1/2 Cups SR Flour

1/2 teaspoon bicarb

1/4 teaspoon salt

2 Tablespoons castor sugar

1/2 cup butter ( cut into cubes)

1 Cup frozen or fresh strawberries ( I used frozen)

1 Tablespoon Lemon Zest.

2 Eggs

1/2 Cup cream

Lemon Curd.

100 g butter

1 1/2 cups castor sugar

1 Tablespoon lemon rind

1/3 cup lemon juice

2 eggs lightly beaten

Place butter , sugar , lemon juice and rind in the top of a double saucepan ( bottom saucepan simmering with water ) , only cook long enough to melt the sugar and butter.

Remove from heat and whisk in the eggs. Return to heat and cook 8 mins until mixture coats the back of the spoon. Remove and cool. ( can be stored hot in sterile jar for later use) .
Instructions
Mix the dry ingredients together and then rub in the butter. Gently fold in the cut strawberries and lemon zest. Beat the eggs together and then mix in the cream. Add to the dry ingredients and combine gently. # this mixture is very sticky , but that's how you get a good dough and the less handling the better.

Add some flour to your board and gently knead , turning the mixture over and around about 8 times only. Place in the SC on baking paper sprayed with oil and shape to fit your cooker.

Cook on high 1 1/2 - 2 hours, tea towel under the lid .

Allow to cool and then decorate the top with whipped cream and homemade ( or shop bought) lemon curd.