Submitted by Greta Wathen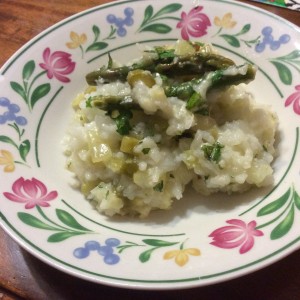 Asparagus, Mint & Lemon Risotto
Ingredients
2 bunchs asparagus,

1 large onion, finely chopped,

4 sticks celery, finely chopped,

1.7 litres chicken or vege stock,

250 mls dry white wine,

2 tablespoons olive oil,

600 grams arborio rice,

50 gram butter,

1 bunch fresh mint, finely chopped,

2 Lemons, zest & juice.

1 small handful Parmesan cheese,

Sea salt & pepper.
Instructions
Fry off your onions & celery in 2 tablespoons of olive oil & butter until soft about 15 minutes, add rice.

Transfer into the slow cooker with all ingredients, except for cheese, mint and lemons, salt & pepper.

Cook on high for 2 hours, stirring occasionally.

When cooked, with still a little bit of juices left, add finely chopped mint, lemons and cheese.

Season to suit with salt and pepper. Enjoy.