Submitted by Maxine Streets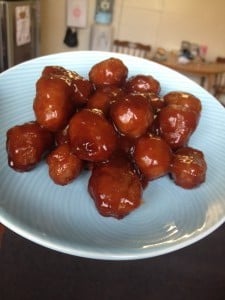 Sticky BBQ and Mustard Meatballs
Ingredients
1/2 cup of water

1/2 cup tomato sauce

2 table spoons of soy sauce

2 table spoons of brown sugar

2 table spoons of apricot or plum jam (or honey if you like)

2 teaspoons of Dijon mustard depending on your taste less or more.

10 pork or beef sausages (I squeezed around 5 small meatballs out if each sausage) or sausage mince
Instructions
Mix all sauce ingredients together in sc until brown sugar and jam is dissolved.

Set slow cooker to high while preparing the meatballs

Meatballs:

10 pork or beef sausages (I squeezed around 5 small meatballs out of each sausage) or sausage mince and prepare to the size of your liking.

Roll small amounts of sausage meat into balls then coat In corn flour

Add to slow cooker cook on high for 2-3 hours place tea towel under lid so sauce goes thick and sticky.