Submitted by Denise Roberts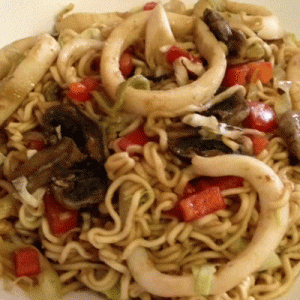 Squid and Noodle
Ingredients
200g Squid Rings (defrosted/raw)

1 pkt 2 Minute Noodles (Chicken)

1 Cup Cabbage (Shredded)

1/2 Cup Red Capsicum (Diced)

1/2 Spring Onion (Thickly Sliced)

2 Mushrooms (Sliced)

2 TBL Soy Sauce

1 TBL Ginger Paste

1 TBL Garlic Salt

1/2 Cup Water
Instructions
Combine soy, ginger, garlic, 1 tsp of chicken flavouring (from 2 minute noodles sachet) and water.

Place noodles in based of your slow cooker and add cabbage, mushrooms, onion and squid on top.

Pour sauce over the top and begin to cook for 50 minutes on HIGH.

Stir twice during cooking process.

Serve and enjoy.
Notes
Creates 1 large serving

Cooked in my 1.5L Adesso slow cooker which cooks at a higher heat. Times may vary.