Submitted by Nicole Bazzacco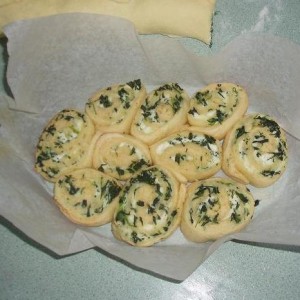 Spinach & Ricotta Scrolls
Ingredients
DOUGH

3 cups SR Flour

100g butter/marg, softened

1 tsp salt

1 cup milk

FILLING

1 500g box frozen spinach - squeeze out as much liquid as you can.

1 kilo ricotta

salt & pepper to season is optional
Instructions
DOUGH - mix all ingredients in a bowl, knead on a lightly floured bench until it's not so sticky (you can add flour but only small amounts at a time) and roll out till it's no more than 5mm thick.

FILLING - mix spinach & ricotta in a separate bowl & spread over the dough, roll it up & cut into slices about 2-3 cm thick

Place in the slow cooker lined with baking paper and cook on HIGH for 1.5 to 2hrs.

Place a tea towel under the lid.