Submitted by Emma Webster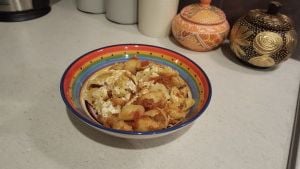 Beef & vegetable pasta bake with cottage cheese topping
Ingredients
500 grams of beef mince browned

1 onion

2 cloves of garlic

1 teaspoon of dried mixed herbs

2 beef stock cubes crumbled

Dash of Worcestershire sauce

Dash of red wine

Salt and pepper to taste

2 tins of diced tomatoes

1 onion diced small

1 carrot grated

1 red capsicum diced small

1/2 a grated zucchini

6 cherry tomatoes, each cut into thirds

300 grams of dried pasta (i used small shells)

Topping

About 1/2 a cup of light tasty grated cheese

Mixed with 150 grams of low fat cottage cheese
Instructions
Brown mince in pan and add to slow cooker, add all other ingredients and stir. Cook on low for 5 hours with lid on.

Cook pasta in separate pot of boiling water, i cooked mine so it was still abit firm because it cooks further in slow cooker. Once cooked, drain and add to the slow cooker and combine with the mince sauce. Flatten with the back of a spoon so the mince and pasta is quite flat.

Combine the grated cheese and cottage cheese in a small bowl and spread the mixture over the top of the pasta and mince.

Cook on high for another 30 to 45 minutes with the lid on and tea towel under the lid to absorb moisture.

Serve with salad and garlic bread or just on its own!