Submitted by Cassandra Jennings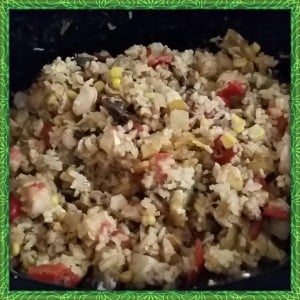 Special Fried Rice Combination
Ingredients
4 x Cups of Precooked White Rice.

250g Sliced Mushrooms.

1 x Yellow Capsicum diced.

1 x Red Capsicum diced.

150g of Precooked Bacon Pieces.

1 x Brown Onion Chopped.

1 x Chicken Breast Precooked and Chopped.

4 x Precooked Crab sticks.

10 x Peeled Cooked Prawns.

1 x cup of frozen corn kernels.

4 x Precooked whipped/scrambled egg.

1 x Sachet of Fried Rice Seasoning.
Instructions
Precook and prepare all ingredients as directed in the ingredients list.

Combine everything together into your slow cooker on low heat for 1-2hrs.

Stir every 30 minutes to prevent rice from sticking together and from sticking to your slow cooker insert.

If your dish seems dry as each cooker is different, please add one cup off asian flavoured cupasoup mix with 250ml of hot water.

Happy Cooking