Submitted by kylie-louise arnold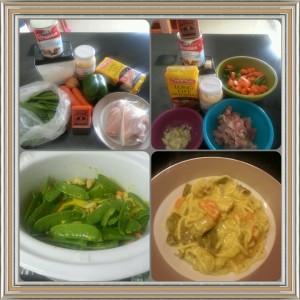 Home made chicken curry
Ingredients
4 chicken thighs or 3 chicken breasts

2 tbs of cruched garlic

1 tsp curry powder

1 onion sliced

1 whole green capsicum sliced

2 carrots chopped

hand full of snow peas

1 tin of carnation milk/ or coconut milk

1 cup of chicken stock

corn flour to thicken at the end
Instructions
Brown chicken,onion and garlic. Once the onions are soft add curry powder cook for a further 2 minutes. Add to slow cooker

Add carrots, capsicum, milk and stock, and cook on high for 1.5 hrs and then add the snow peas. Cook for a further 30 minutes. Add a little water/stock with corn flour in a jug or bowl add and stir till thick.

Serve with noodles or rice.