Slow cooked chocolate fudge with a smooth soft top of delicious slow cooked salted caramel
Caleb & Paulene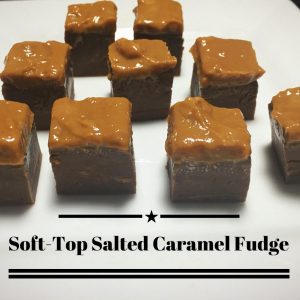 Soft-Top Salted Caramel Fudge
Slow cooked chocolate fudge with a smooth soft top of delicious slow cooked salted caramel
Ingredients
Fudge
500g of chocolate

1 tbs butter

1 tbs vanilla essence

1 x 395gm can condensed milk
Soft Top
1 x 395gm can condensed milk (or 1 x can of Caramel Top'n'Fill caramel - though it's not as nice as the real thing)

3/4 tsp crushed sea salt
Instructions
Make Caramel
Take one can of sweetened condensed milk, place in your slow cooker

Cover it WELL with water, ideally up to an inch over the top of the cans at all times during cooking (very important)

Cook on high for around 6hrs

Cool FULLY before opening (very important)

Note: If you don't wish to or don't have time to cook your own you can substitute the canned caramel for this
Salt Caramel
Mix 1/2 tsp of salt into your caramel and stir well.

Check taste and add more salt only if you prefer yours saltier (not the remaining 1/4 tsp will still be sprinkled on top of the final fudge also)
Cook Fudge
Place all fudge ingredients into slow cooker

On Low - lid off

Stir every 15mins or so for 90mins - use a non-wooden spoon to stir

Pour into lined tin to refrigerate till set
Assemble
When fudge is set pour your salted caramel over top of fudge

Sprinkle remaining 1/4 tsp of salt over the top

Return to fridge for an hour just to ensure it's well chilled prior to cutting

Note: Caramel soft top will remain soft, not set like the fudge. So when cut store pieces in single layer to avoid smearing of the caramel. Keep in fridge until serving.
Frequently Asked Questions