I used the basic fudge recipe and added Girl Guide biscuits and marshmallows to create our version of S'mores 🙂
Submitted by Alison Nermut-Nichols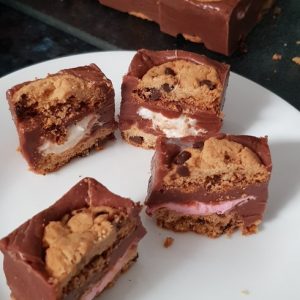 S'mores Fudge
I used the basic fudge recipe and added Girl Guide biscuits and marshmallows to create our version of S'mores 🙂
Ingredients
500g chocolate

1Tb butter

1Tb vanilla essence

395g tin sweetened condensed milk

Marshmallows (I used 12)

1 packet mini choc chip biscuits (I used Australian Girl Guide biscuits and used 1 pot plus a few extra)
Instructions
Put chocolate, butter, vanilla essence and condensed milk in slowcooker. Cook on low with the lid off, stirring every 10-15 minutes until it starts to develop a slight crust (my 1.5l takes around 45 minutes).

Place a layer of choc chip biscuits in the bottom of a lined slice tray (I use two pieces of baking paper). Cut marshmallows in half and place half a marshmallow on each biscuit.

Carefully pour cooked fudge over the top, be careful that the biscuits and marshmallows don't move. Thump the tray a few times to ensure the fudge seeps down between the biscuits. The heat from the fudge starts to melt the marshmallow, so don't try to pat or spread it with a knife

Top with more biscuits and push them down into the fudge.

Set in the fridge before cutting and serving!