To help with those winter bugs
Submitted by Karen Stuckings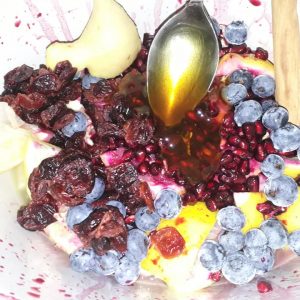 Immunity Boost Super Brew
To help with those winter bugs
Ingredients
3 lemons washed in warm water

1 cinnamon stick

2 inches of ginger cut into thick slices

1 pomegranate

60 grams or 1/2 container of blue berries

50 grams dried cranberries

1 tsp manuka active honey to serve (see notes)
Instructions
Juice lemons and cut into quarters

Place all ingredients in slow cooker except for honey

Fill with water until about inch from top of a 3L slow cooker (approx 2L)

Cook on low over night (I did about 10 hours)

Ladle into cup stirring in honey to suit taste
Notes
To peel ginger I just scrap with sharp knife or young ginger just wash.

Use best quality honey you can afford.

Any fruits can be used but stick with red, blue and purple ones because they have the anthocyanins that are needed.

Drink one cup of a morning and any other time you wish.

This can be drank cold or warm. If warming only heat to 25 degree Celsius (95F) to retain the full properties of honey

Refrigerate for up to 3 days or freeze in portions.

Cooked in Aldi 3L.
Notes on health/immunity benefits
Honey: antibacterial, stimulates immune system.

Ginger: anti nausea, anti-inflammatory and has antioxidants.

Red, blue, purple fruits: fight viruses & bacteria and stimulates immune system.

Cinnamon: has antioxidants and is anti-inflammatory.

Lemon: high in vitamin c and helps with hydration