Submitted by Denise Roberts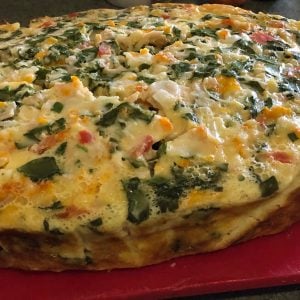 Smoked Cod Slice
Ingredients
500g Smoked Cod

Boiling Water

2 cups Milk

8 Eggs

2 cups Cheese (extra tasty)

4 TBL Protein Powder (Optional)

300ml Cooking Cream

1 Onion (Diced)

1 Tomato (Diced)

1 Small Bag Baby Spinach (Chopped)

4 Cloves Garlic (Crushed)

1 cup SR Flour

Salt & Pepper
Instructions
Boil smoked cod in water and 1 cup of milk (enough liquid to cover the cod) for 5 minutes.

Once boiled remove cod and flake with a fork. Be sure to remove any bones. Set aside.

Mix eggs, flour, powder, salt, pepper, cream and the remaining 1 cup of milk.

Once mixed add all ingredients and gently combine.

Prepare your slow cooker by spraying it will oil, layering it with baking paper or a slow cooker liner. The choice it yours.

Pour in mixture and cook on low for 4 hrs. (Time varies as to slow cooker brands).

Once cooked, gently remove slice from slow cooker, cut and serve. Enjoy.
Notes
NOTE: Protein powder is not necessary. I use it for health reasons.

The addition of diced ham would work well with this.