Submitted by Ashlea Fava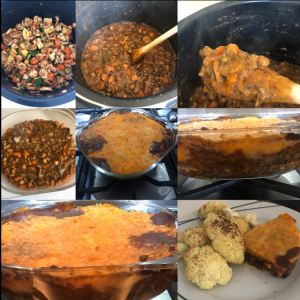 Chickpea Vegan Shepherd's Pie (Gluten-free)
Vegetarian & Vegan made easy!
Ingredients
For the filling
1 large onion chopped

1 clove garlic minced

1 lb mushrooms chopped finely

2 stalks celery chopped

2 large carrots chopped

1 medium zucchini chopped

1 tbsp tomato purée

1 tbsp dried basil

2 tsp garlic powder

2 tsp cumin

1 tsp paprika

3/4 cup veggie broth

2 tbsp tamari sauce

1 tbsp apple cider vinegar

0.5 lbs cooked chickpeas (around 1.5 cups)

salt and pepper to taste

Optional - 2 tsp cornstarch or arrowroot powder (tapioca flour)
For the potatoes
5 medium white potatoes

2small sweet potatoes

1/2 cup almond milk or any other plantbased milk of choice

Optional:

2 tbsp nutritional yeast

1 clove garlic minced
Instructions
Step 1
Add all the "filling" ingredients into the slow cooker (except the flour)

Stir until everything is combined.

Cook on low for 8 hours/high 4 hours

If the consistency is too runny, do the optional method -

- 2 tsp cornstarch or arrowroot (tapioca flour) powder (combine/mix in 3/4 cup water)

Either 30min prior to finishing or put back on HIGH for about 10-15min so it can simmer and thicken (or if you have a simmer option on your cooker use that)
Step 2 – (to be completed just before the pie filing is cooked)
**you can also find a "slow cooker" option for mash or complete via stove top

Preheat oven to 180 degrees C/350 F. Meanwhile, Peel and cut potatoes into medium pieces and cook in a large saucepan of boiling water on stove until tender

Drain and add milk and butter and mash to a smooth mashed consistency
Step 3
Add pie filling into an oven proof baking dish

Spoon the mash potato on top

Optional – add cheese (dairy or vegan on top)

Bake for 40-45min - serve

Serve with steam green veggies or baked cauliflower
Notes
Inspired by a recipe from www.earthofmaria.com

**Please note, the oven dish I used is my smaller one, I had plenty of filling left over to freeze.