Submitted by Kat T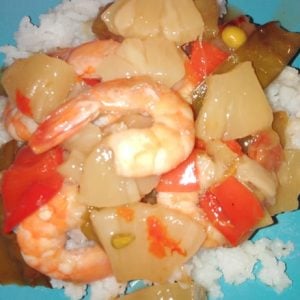 Slow Cooker Sweet and Sour Prawns.
This was a really tasty dish and a lot of other vegetables could be added depending on your taste.
Ingredients
Snow Peas (or Sugar Snap Peas)

1 -2 Capsicum.

1 can pineapple chunks (or rings - which you can cut)

2 tablespoons cornstarch

3 tablespoons sugar

1 cup chicken stock

1/2 cup reserved pineapple juice

1 tablespoon soy sauce

1/2 teaspoon ground ginger (or ginger paste)

40 frozen (thawed) cooked prawn/shrimp (medium or large)

2 tablespoons cider vinegar (or rice vinegar)

1 cup of rice (hot and cooked, for serving)
Instructions
Drain the can of pineapple in a sieve over a bowl; reserve 1/2 cup of the juice.

Place the peas, capsicum and drained pineapple in the slow cooker.

In a small saucepan, combine the cornstarch and sugar; stir to blend. Add the chicken stock, the 1/2 cup of reserved pineapple juice, soy sauce, and ginger. Bring the mixture to a boil over high heat. Cook the sauce for about 1 minute, stirring constantly. The sauce should be thickened and clear.

Pour the sauce over the peas, capsicum and pineapple; stir gently to blend the ingredients. Cover and cook on LOW for 3 to 4 hours. Add the thawed cooked shrimp and continue to cook for 15 to 20 minutes longer, or until hot. Add the vinegar and stir gently.

Serve with hot cooked rice.