This recipe can be used as a base for multiple dishes. I like to use this chili for my chili pot pies with corn bread crust
Submitted by Pamela Mann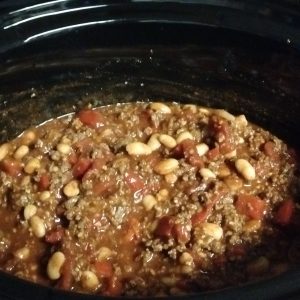 Slow Cooker Roasted Red Pepper Chili
This recipe can be used as a base for multiple dishes. I like to use this chili for my chili pot pies with corn bread crust
Ingredients
1.5 lb Ground Beef (Lean)

1 medium onion, chopped

4 cloves garlic, minced

1 jar roasted red peppers, drained and rinsed, chopped if necessary

28 oz diced tomatoes

23 oz/680mL tomato sauce

19 oz/540mL white beans, drained and rinsed

2 tablespoons chili powder

1 teaspoon ground cumin

1 teaspoon ground coriander

1 teaspoon smoked paprika

½ teaspoon salt

1 tsp cocoa powder

after cooking:

2 teaspoons balsamic vinegar

additional salt to taste
Instructions
Cook beef in a pan over medium heat, stirring to break it up for 8-10 minutes, or until no pink remains.

Drain any grease from the beef as you transfer it to the base of a slow cooker.

Add all remaining ingredients and stir up.

Cook on the lowest setting for 8-10 hours.