Submitted by Courtney Bridge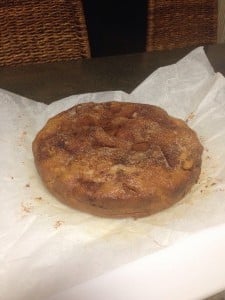 Slow Cooker Pear Tea cake
Ingredients
1/2 cup butter

3/4 cup sugar

1 egg

1/4 cup milk

1 and 1/2 cups s.r flour

1 tsp Vanilla essence (optional)

Can of Apple or Pear pieces

Cinnamon sugar to taste
Instructions
Melt butter and sugar together in a saucepan over low heat until melted and combined, add vanilla. Transfer mix into bowl.

Mix in egg gently then flour and milk. Once combined mix in 3/4 of Apple/pear and some cinnamon sugar to taste( I chopped my pear up a bit smaller than what was in tin).

Lightly grease sc and line with baking paper. Pour in batter.

Place remaining pear on top and sprinkle with more cinnamon sugar to taste, as much as you prefer.

Cook on high for 1.5 - 2 hours depending on SC with towel under lid.