Submitted by Toni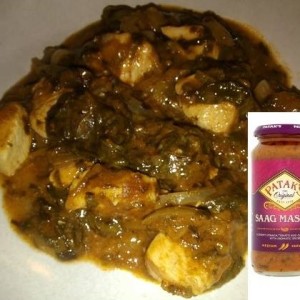 Slow Cooker Chicken Saag Masala (Using Pataks Jar Sauce)
Ingredients
1 x Bottle Patak's Saag Masala sauce

3 x chicken breast

1 x heaped teaspoon fresh garlic

Half bag fresh spinach (break stalks off if preferred)

Half a pepper (capsicum )(finely diced, I used red)

Half a large onion (finely diced)

Fresh corriander

Butter for searing chicken, onions, butter.

Optional: Coconut milk or Creme friesh if it is too hot, generally it comes out mild.

Serve with Basmati Rice
Instructions
1.Chop chicken, finely slice onions and pepper & pop to one side.

2.Prepare garlic, chop corriander & pop to one side.

3.Pop the slow cooker on low and add the patak's sauce

4.Heat the butter over medium heat on the cooker and add the chicken, onions and pepper and sear for 2 minutes, then add all this to the slow cooker.

5.Add the spinach, garlic and corriander in the slow cooker, Stir all the ingrediants and cook for 3 hours on low, with lid on.

6.Serve with Basmati Rice or any type of rice

Add a tablespoon of coconut milk or creme friesh if it is too hot for kiddies.