Submitted by Candice Burgess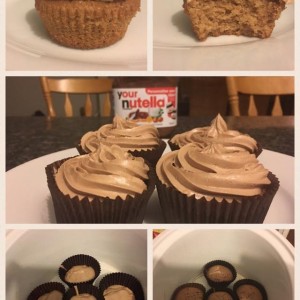 Nutella Cupcakes
Ingredients
1 2/3 cups Plain flour

1 cup sugar

1/4 tsp baking soda

1 tsp baking powder

3/4 cup salted butter, room temperature

1/2 cup Nutella

3 egg whites

1 tsp vanilla extract or 1 tbs of Vanilla essence

1/2 cup sour cream

1/2 cup milk

For the icing :

1 cup unsalted butter

1 tbs of Cream

2 tbs water

4 cups Icing sugar

1/2 cup Nutella or more to taste
Instructions
I preheated Slow Cooker for about 15 mins

Tea Towel under lid.

My slow cooker seems to cook quick, so keep an eye on them, I lifted lid to just peek and check how they were rising a few times, Careful not to let too much steam out though.

Whisk together flour, sugar, baking soda and baking powder in a large mixing bowl.

Add butter, Nutella, egg whites, vanilla, sour cream and milk and mix on medium speed until smooth.

Fill cupcake liners a little more than half way.

Bake 50 mins to an hours pending on your slow cooker with a tea towel under the lid, The cupcakes are light brown in colour.

While cupcakes cool, make icing.

Mix butter together for 1 minute on medium,

Add 2 cups of Icing sugar and mix until smooth.

Add Nutella and 1 tbsp water and 1tbs cream, mix until smooth.

Add icing sugar and 1 tbsp water and mix until smooth.

Ice cupcakes.

Please note, The butter may make the cupcake batter slightly lumpy, You can leave for a few mins and then mix again for another 30 seconds.