You've never met a pizza (or cake!) quite like this one!! 🙂
Submitted by Keith Hechinger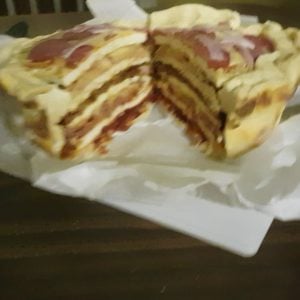 Slow Cooked Meatlovers Pizza Cake
You've never met a pizza (or cake!) quite like this one!! 🙂
Ingredients
CRUST
500g of self raising flour

500g of Greek yogurt
LAYERS
Store bought pizza bases (cut to fit the SC)

Pizza sauce or BBQ sauce

Handful of shredded pizza blend cheese

Pepperoni

Shaved ham

Shredded or minced meat leftovers of choice (I used Mexican chicken, BBQ pulled pork and beef bolognese)
TOPPING
Pizza sauce

Handful of cheese

Pepperoni

Bacon

Italian herbs
Instructions
Step 1
Pre heat oven for 220°C and cut up the bases
Step 2
Add pizza sauce, then the cheese and the layer filling of choice.
Step 3
Place your layers in the oven for 15 minutes.
Step 4
Combine flour and yogurt together in a bowl and mix and knead it into a dough.
Step 5
Roll it on a floured surface and lay it on a greased and papered SC. Make sure it forms a bowl
Step 6
Add cheese, then the sauce and then the pepperoni and ham into your dough bowl.
Step 7
Place the baked layers in the dough and then add more cheese.
Step 8
Add an empty base on top and add sauce, cheese, pepperoni, bacon bits and herbs.
Step 9
Cook it on HIGH for 1.5 or 2 hours with a tea towel under the lid
Notes
I use a 5.5 litre SC for this. Smaller SC may need to half the dough mixture.

For those who can't use a oven to cook the layers, you can use a pan with a lid.

Based on an episode of my YouTube Channel Tryin Sh@t. A really crazy and rad dish for parties.

Bone Apple Teeth