Super easy, tasty & moist.
Submitted by…Ange Marie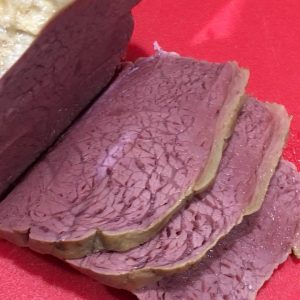 Moist Silverside
Super easy, tasty & moist.
Ingredients
1.5kg piece of silverside

1-2 carrots, roughly chopped

1 celery stalk, roughly chopped

1/3 of a cabbage, roughly chopped

1 large onion, roughly chopped

2 cloves of garlic, crushed

3 bay leaves

1/4 cup malt vinegar

1 dessertspoon of brown sugar

6 cloves

12 peppercorns

1 tsp chicken stock powder
Instructions
Put everything in the slow cooker and add enough cold water to just cover the meat.

Cook on low for 6-8hrs (Cooking times will depend on size of the meat and your slow cooker)

I check at 6hrs with a carving fork if it comes out easy its cooked if it doesn't I leave the meat to cook for another hour and check again.

When the meat is cooked leave it in the liquid until you are ready to carve. This will stop the meat shrinking & will keep it moist.
Notes
This recipe was how my mother & my grandfather would cook thier silverside.

I have followed this recipe for over 30 years, all I have done is altered the cooking times for the slow cooker.

Its beautifully moist and tender.

You can use the liquid to make a delicious gravy as well.