Submitted by Samantha Hofstra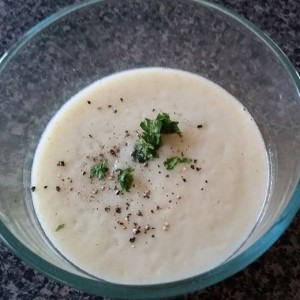 Skinny Cauliflower Soup – Weight Watchers Friendly
Ingredients
1 full cauliflower, chopped into small florets

2 medium potatoes, chopped small

2 celery stalks, chopped

2 onions, chopped

3 garlic cloves, chopped

2 cups chicken stock

2 cups skim milk
Instructions
1. Place all ingredients in slow cooker.

2. Cook 3 hours on high

3. Blend in slow cooker with stick blender. Season to taste.

4. Divide into 4 bowls. Garnish with cracked pepper and fresh chopped parsley/or coriander/or chives.

3 weight watchers points.

Serve with your choice of bread. I used wholemeal with light cream cheese.