A simple, slow cooked, 3 ingredient pulled beef. So versatile to then serve with salad, on wraps and pizza's or even on subs 🙂
Submitted by Paulene Christie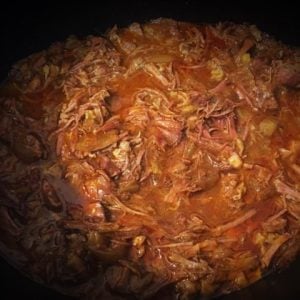 Simple & Sensational Pulled Beef
A simple, slow cooked, 3 ingredient pulled beef. So versatile to then serve with salad, on wraps and pizza's or even on subs 🙂
Ingredients
1-1.5kg of inexpensive beef (see notes below for what sort)

1 large onion, sliced

1 sachet of your favourite rib spice rub (see notes below)

1 cup water
Instructions
Lay sliced onion on base of slow cooker

Add whole beef pieces. I used thick cut chuck stewing steak. (see notes)

Sprinkle spice rub over and add 1 cup water

Cook on low for 7-8hrs

Shred/pull beef apart

Serve on wraps with salad - On pizza - With a Salad - Or on subs. Great option for guests to self serve onto rolls at parties also.
Notes
Choose a cheap cut of beef. Cuts like chuck steak, oyster blade and stewing steak are ideal.

You could also use a solid roast piece of beef but don't choose an extra lean one as a little fat will keep the end result more moist and flavourful

I use McCormick rib rub in Tennessee smokehouse but you could choose any spice rub you prefer from the spice section of your supermarket. If you prefer to make your own you'll find many spice rub recipes online to follow also 🙂

Be sure to only shred your meat with plastic utensils if it's in your slow cooker bowl still so as not to scratch your cooking bowl. If you wish to use metal utensils first transfer it to another bowl to shred.

If using the option of a solid roast piece of beef increase cooking time to 8-9hrs on low

I've also one this successfully with lamb chops and left them whole