Submitted by Sandra Schaefer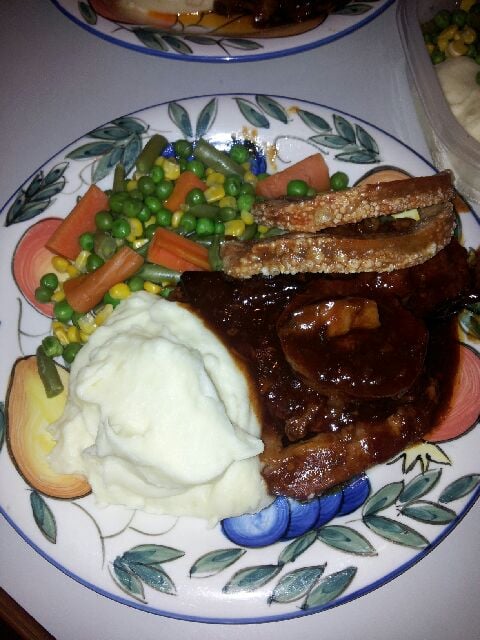 Scrumptious Pork Chops (With you-beaut crackle)
Ingredients
Sandy's Scrumptious Pork Chops

6 pork loin chops (Rinds removed for crackle)

1/2 cup of tomato sauce

1/2 cup of BBQ sauce

1 packet of Salt Reduced French Onion Soup

1 generous handful of brown sugar

1 onion cut into quarters

Oil and salt for crackle
Instructions
Method

Place chops on top of onion in base of slow cooker

Mix sauces and packet of french onion soup together and pour over chops

Stir so chops are coated in sauce mixture

Sprinkle brown sugar over everything

Cook on high for 4 hours, then reduce to low for 2 hours

Pork Crackle

In last half hour of cooking, turn on conventional oven to high

Prepare pork rinds by soaking in boiling hot water, this seems to remove excess oil from the rinds and maximises crackle texture.

Dry rinds off with paper towels.

On baking tray, place rinds on a baking paper covered tray, drizzle with oil and salt and place in hot oven for about 10 to 15 minutes. Watch closely so these don't burn. My oven has a grilling feature in the oven too which I like to use, but you could also place these under a grill only if you prefer.