Russell Hobbs 4L Matte Black Slow Cooker
This medium sized slow cooker from Russell Hobbs is perfect for smaller families, those who like a range of multiple sized slow cookers in their collection, or simply anyone who loves the smart looking matte black finish!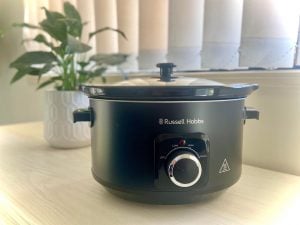 FEATURES:
4L capacity ceramic cooking bowl
Tempered glass lid
Cool touch handles
Manual control with OFF/LOW/HIGH/WARM
Power indicator light
The 4L capacity is a great size for singles, couples or small-medium families, or even as a second slow cooker option on days you don't want to use your larger slow cooker.  An emptier slow cooker will cook hotter so having a smaller option to use for smaller recipes gives you a longer cook time and this can be really important for families with long working days!
A smaller cooker like this is also a great space saver when storage options are limited.
No complex digital controls to worry about with this slow cooker – just a simple turn the dial knob like this is fool proof!
To give you even more reassurance that you've set it right, this model has the power indictor light which I always love on a slow cooker because you can always know at a glance if you have turned on your slow cooker, or if you have turned it off after.
It's always a great option to have a keep warm setting so that if your meal is cooked a little early, or your dinner has to be served a little late, you can switch to keep warm and save dinner.  I personally recommend no longer than 2hrs for ideal food quality (though some will stretch that out to 4hrs).  Never use the keep warm setting to cook or reheat food.
I tested out this machine over 3 different types of recipes and every time it cooked perfectly to expectations!
CARE AND MAINTENANCE: 
Do not soak the ceramic bowl in water or its porous base can soak up water and cause it to crack.  It is however ok to fill inside the cooking bowl with water after cooking to soak.  Always use warm water to do so, never add cold water to a hot bowl or it too can cause cracking.
Dishwasher safe cooking bowl and lid.
Never immerse or wash external cooker casing, only wipe that over with damp cloth and mild detergent if necessary.
2yr warranty for this slow cooker
RRP of this cooker is $49.95
Available at Target, Betta Electrical, Bi-Rite, Retravision, Billy Guyatts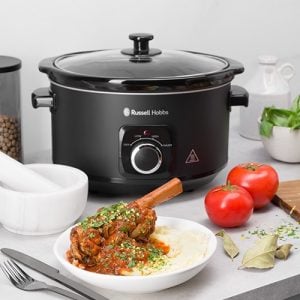 .