Russell Hobbs 7L Matte Black Slow Cooker
This time saving, large family sized slow cooker in a premium matte black finish is just the thing for families!
The large 7L capacity ceramic cooking bowl will fit last roasts, sizeable soups, casseroles and curries – enough tasty dinners to easily feed 8
Smaller families like the bigger size too to enable leftovers to freeze for another day 🙂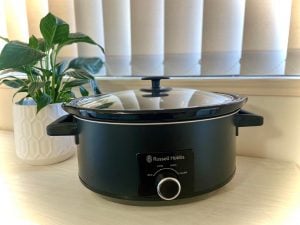 FEATURES:
7L capacity ceramic cooking bowl – great for large families or entertaining!
Tempered glass lid so you can keep an eye on what's going on inside without having to lift the lid and lose heat.
Cool touch handles
Manual control with OFF/LOW/HIGH/WARM
Built in lid holder – love this special feature of the lid/handles to allow you to serve straight from the slow cooker while keeping the lid safe and close by
I made the most delicious Massaman Lamb Shanks with potatoes and green beans in mine (recipe from HERE) and the generous 7L capacity meant not only did I easily fit 4 large lamb shanks in, but I could also easily have doubled it to 8 if I needed to!
No complex digital controls to worry about with this slow cooker – just a simple turn the dial knob like this is fool proof!
It's always a great option to have a keep warm setting so that if your meal is cooked a little early, or your dinner has to be served a little late, you can switch to keep warm and save dinner.  I personally recommend no longer than 2hrs for ideal food quality (though some will stretch that out to 4hrs).  Never use the keep warm setting to cook or reheat food.
This slow cooker cooked exactly to expectations of time and heat, and I have no hesitations recommending it for your family 🙂
Russell Hobbs was a finalist in the FINDER BEST RATED SLOW COOKER BRAND for 21/22 so you know when you buy Russell Hobbs that you are buying a quality product!
CARE AND MAINTENANCE: 
Dishwasher safe cooking bowl and lid saves you clean up time in the kitchen!
Do not soak the ceramic bowl in water or its porous base can soak up water and cause it to crack.  It is however ok to fill inside the cooking bowl with water after cooking to soak.  Always use warm water to do so, never add cold water to a hot bowl or it too can cause cracking.
Never immerse or wash external cooker casing, only wipe that over with damp cloth and mild detergent if necessary.
2yr warranty for this slow cooker
RRP of this cooker is $69.95
Available at Good Guys, Big W, Harvey Norman, Harris Scarfe, Target, Betta Electrical, Catch, Amazon, Myer, Bi-Rite, Retravision, Billy Guyatts