Yummy meatballs filled with three different types of cheese!
Submitted by Bianca Pavia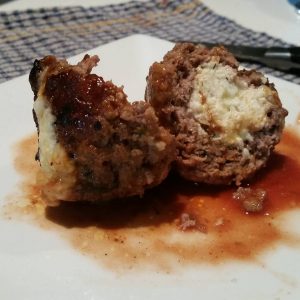 Ricotta and Cheddar Stuffed Meatballs
Yummy meatballs filled with three different types of cheese!
Ingredients
500 Grams Beef Mince

500 Hamburger Mince

1 Egg

2 Teaspoons Sweet Paprika (Optional)

Salt and Pepper

Garlic/Onion Powder

1 Large Onion

4 Gloves of Garlic

2 Jars of Pasta Sauce

Tin of Tomatoes

1 Teaspoon Sugar

500 Grams Ricotta Cheese

250 grams Shredded Cheddar Cheese

2 Teaspoons Basil

2 Teaspoons Oregano

1 Cup of Breadcrumbs

Half a Cup of Parmesan Cheese

2 Teaspoons Parsley
Instructions
Mix together the mince meat, garlic and onion powder, paprika, salt/pepper, breadcrumbs, egg, oregano and basil until combined well.

Using your hands make a patty out of a small portion of the meat mixture, approximately the size of your palm if not a tiny bit bigger.

In a separate bowl mix together the Ricotta Cheese, Parmesan Cheese, Parsley, Salt/Pepper and Cheddar Cheese.

Place a small amount of the cheese mixture (a heaped teaspoon) in the middle of each meat patty and fold to create a meatball. If there are cracks in the outside of the meatballs, try to rub them over with your finger. This will help to prevent them from cracking open during cooking.

Dice the Onion/Mince garlic and brown in a pan before transferring to the Slow Cooker. Add the Pasta Sauce, Tinned Tomatoes, Sugar, Salt/Pepper and any other ingredients you would like in your sauce. I also added a cup of water at this stage to make sure there was enough sauce to cover two layers of meatballs.

Once the sauce is in the Slow Cooker, Lightly grease a pan and brown the meatballs. Use a spoon to lightly flick the meatballs over when needed.

Transfer meatballs to the Slow Cooker carefully. I get two layers out of this recipe. Cover with lid.

Cook on Low for 6 hours.
Notes
I find it is easier to make all the patties prior to stuffing the meatballs with the cheese. I am then able to grab a patty, put the cheese mixture into the middle and mold the patty into a ball around the cheese at a faster pace than if i were to do it all one by one.

Served with Mash Potato but could be served with Salad, Pasta, Rice etc.