Submitted by Julie-Ann Waterhouse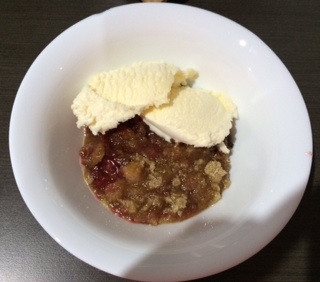 Rhubarb and Strawberry Crumble
Ingredients
3 cups chopped Rhubard

1 cup chopped Strawberries

1/2 cup white sugar

2 tbsp plain flour ( can use gluten free flour)

2 tsp vanilla essence

Crumble Topping

2 tbsp butter

1/2 cup brown sugar

1 cup of almond meal (can use oats as well).

1/2 tsp cinnamon *optional*
Instructions
- Grease Slow cooker well with cooking oil spray.

- In a large bowl combine sugar, flour and vanilla essence.

- Add Rhubarb and Strawberries to the dry mix and combine.

- Pour into slow cooker.

Crumble Topping:

- In a bowl combine butter, brown sugar and mix with a fork.

- Add the almond meal ( or oats) and cinnamon, mix to combine

- Sprinkle the crumble mixture over the Rhubard and Strawberry mixture.

- Cover and cook on low for 2-3 hours ( the last half hour of cooking remove the lid to allow extra moisture to evaporate.

- Serve with cream, custard or ice cream and enjoy!