— Morphy Richards Red 6.5L Sear and Stew Slow Cooker —
I admit I was taken by this machine the minute I laid eyes on her gleaming red colour!
What a beautiful slow cooker, and with all the features and quality I've come to expect from Morphy Richards appliances, I knew it would be a beautiful addition to my collection  🙂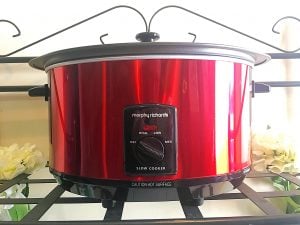 If you are looking for a large searing slow cooker, this may be just the one for you!
Let's look at the included features …
FEATURES
It's an impressive looking unit on your bench or in your collection with its shiny red finish making quite an impact.
It has the option of 3 cooking settings: Low, Medium and High
290 watts
It features an oval shaped 6.5L capacity aluminium inner pot, with non stick coating that allows searing on stove top (see below for more details on searing feature)
It also features a toughened glass lid to view cooking in progress
The slow cooker has cool touch handles and non slip feet for added safety
The purchase includes a 2yr warranty for domestic use
The lid and inner cooking pot are also dishwasher safe which is great!
SEARING FEATURE
The best feature of this 6.5L Red Morphy Richards Sear and Stew Slow Cooker is the searing feature.
One of the great benefits of slow cooking is convenience.  Many like to add ingredients, turn on and walk away and let dinner cook itself.
What then of the recipes that suggest pre browning/sealing of the meat prior to slow cooking?
Sure you can do that in a pan on the stove but that's extra dishes and trouble.
Enter the searing slow cooker!
You lift out the inner cooking pot, put it directly on your (non induction) stove top and brown/seal right IN the slow cooker bowl.  Once done it's as easy as lifting the inner bowl off the stove and moving it straight back into your slow cooker unit, ready to begin slow cooking.
No extra dishes and no losing those flavour packed morsels that are in the browning pan.  All that taste and flavour stays right in your slow cooker dish where you want it!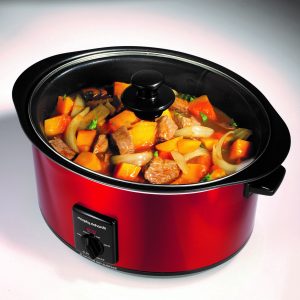 BEFORE USE
Whenever you use a slow cooker for the first time it's important to read the manual.
The Morphy Richards Sear and Stew Slow Cooker manual includes great information on safety, handling, features, tips and trouble shooting.  As well as some recipes to get you started.
First step with any unit is always a good wash first of the lid and inner bowl that you will be cooking in.
The outside casing of the appliance should never be in contact with water!
A quick wash of the inner bowl and lid with warm soapy water and we were good to begin cooking.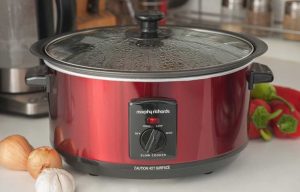 I LOVE searing slow cookers I must admit
And I love one that looks this good in my kitchen 🙂
Thanks Morhpy Richards – I'll certainly be using this slow cooker a lot!
————————————————————————-
Good news … YOU CAN WIN ONE OF THESE FOR YOUR KITCHEN!!!
Prize: 
1 winner will receive 1 x  Morphy Richards Red 6.5L Sear and Stew Slow Cooker Model #461000
Competition open to Australian residents only
Competition Dates:  
Competition open from Saturday 12th August 2017 to Midnight Saturday 26th August 2017 AEST
Winner will be notified on this blog, on a post in our Facebook Group and by email provided on entry – prior to August 30th
Prize will be dispatched direct from Morphy Richards.
To enter:
To enter this great competition simply complete below your details and your answer to the following question:
"How would a Red Morphy Richards 'Sear & Stew' slow cooker make your life easier?"
It's that easy to win 🙂
Good luck!
Competition is now closed
WINNER ANNOUNCED ….. Congratulations to Diane Morris! We hope you love your new slow cooker 🙂