Submitted by Robyn Clark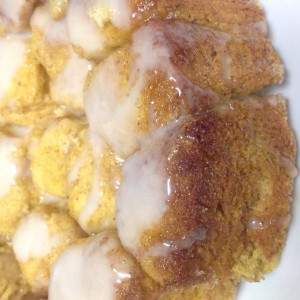 Pumpkin Pull Apart Bread with Maple Glaze
Ingredients
Dough
1/4 cup warm water

1/4 cup milk

1 1/2 teaspoons active dry yeast

1/4 cup sugar

1/2 teaspoon salt

1 egg , beaten

2 tablespoons melted butter

2/3 cup cooked pumpkin ( puréed )

1/4 teaspoon ground cinnamon

1/8 teaspoon ground nutmeg

2-3 cups bread flour ( plain flour )
Coating
1/3 cup melted butter

3/4 cup sugar

1 1/2 teaspoons cinnamon.
Glaze
1 cup icing sugar

2 tablespoons maple syrup

2 tablespoons milk

3/4 teaspoon vanilla
Instructions
Combine milk , sugar , water and yeast together in a bowl and let it sit until it goes frothy. Make sure the water and milk are Luke warm . If the mixture doesn't go frothy then the yeast is no good. Do another batch as you must have this mixture turn frothy to continue. Combine salt, egg ,butter, pumpkin , cinnamon , nutmeg and 2 cups of the flour. Add in the yeast mixture and stir , continue mixing ( I used an electric mixture with a dough attachment , but you can do by hand) . Add in the extra flour gradually until the dough is manageable but still slightly sticky. Knead for a further 4-5 mins. Leave in a greased bowl, cover with glad wrap and allow to rise until doubled in size , approx 1 hour.

Make up the coating , mix together the cinnamon and sugar and leave in one bowl. Place the melted butter in another bowl.

Punch down the dough to let the gases escape . Cut the dough into smaller pieces about a tablespoon each in size , make about 20 small balls . Coat in the butter and then roll in the cinnamon / sugar mixture. Arrange the dough pieces in a suitable sized dish or straight into your SC , placing them close together (lined with greased baking paper). Any leftover butter and cinnamon / sugar mixture just pour over the top. Cover with plastic ( or put the lid on your SC ) and allow to rise another 1 hour. Cook on high 1-2 hours ( tea towel under the lid ) until the centre is cooked through, test with a cake skewer. While bread is cooling , mix up the glaze . Gently prise the bread sections apart and pour over the glaze. Serve warm.