Submitted by Dawn Robinson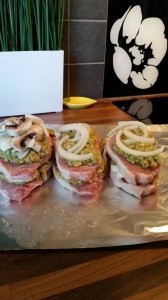 Pork Loin Stacks
Ingredients
(depends on your choice)

Pork steaks/chops

Stuffing (shop bought or home made)

Slices of apple/apple sauce

Sliced onion

Slices of cheese

Sliced mushrooms

Sliced tomato

Wholegrain mustard
Instructions
Layer up the pork on a sheet of foil..place fillings of your choice.....season the layers with herbs/spices.

Tightly wrap the foil around and seal it up.

Place in sc with about an inch of water on top of 4 screwed up pieces of foil.

Cook on high for approx 5 hrs.