Submitted by Jessica Dowdy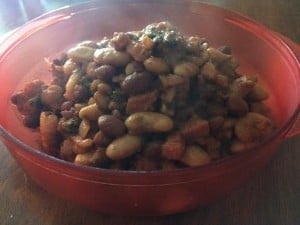 Boston Beans
Ingredients
Boston Beans

400g speck

1 brown onion

1 can cannellini beans (drained and rinsed)

1 can butter beans (drained and rinsed)

1 can borlitto beans (drained and rinsed)

1 can crushed tomatoes

2 tbsp dijon mustard

1/2 cup brown sugar

3 tsp chicken stock powder

2 tsp tobassco sauce

Cracked pepper

1 tbsp Worcestershire sauce

1/2 cup parsley
Instructions
Finely dice speck and onion. Brown in pan. You must do this to achieve a smokey flavour. Don't skip the browning. Add all ingredients to slow cooker. Cook for 4 hrs on high ideally. Add chopped parsley before serving and stir through.

Many other recipes call for maple syrup or treacle as well as brown sugar but I think this is sweet enough.

Freezer suitable.

Good for breakfast, lunch and dinner.

Could use rehydrated dried beans in substitution for the canned ones. This would be a lot cheaper.

Could make vegetarian by substituting a little liquid smoke for the speck.