Submitted by Crystal Greskie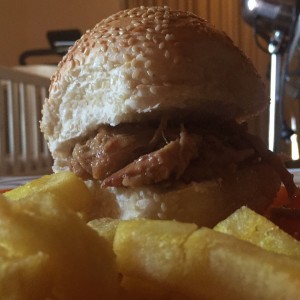 Pork & Gravy
Ingredients
1. 1.5kg pork roast

2. 2 x bbq chicken premade gravox

3. 2 tbs butter

4. A pinch of salt

5. 1 1/2 cups of water

6. 2 tbs oil
Instructions
1. Put something in the slow cooker to stop the roast from hitting the bottom of the slow cooker

2. Put water in the bottom of slow cooker

3. Put butter & salt on the rind to help it crackle if crackle is wanted.

4. Put roast in slow cooker on high for 5 hours

(If wanting it to crackle)

5. DPut roast in oven drizzle a bit of oil on the rind then turn the oven on at 210-250c for 10-30 mins

6. While pork is in the oven pull out what ever you are holding the roast with out of slow cooker and add both pre made gravox leaving it on high.

7. When you have the crackle that you desire pull pork out use forks to shred the pork

8. Add pork into gravy.

9. Leave pork in gravy for about 2 hours on high.