Submitted by Paulene Christie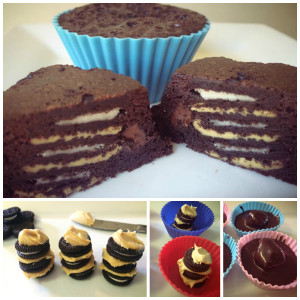 Peanut Butter & Oreo Brownies
Ingredients
I boxed Brownie Mix and associated additions listed on box (eg egg, butter, water)

Peanut Butter

5 packets of 10 Oreo Mini's (total of 50 mini Oreo's)
Instructions
Layer 3 mini Oreo biscuits in a stack with a generous smear of peanut butter between each layer and on the top of final layer (as pictured)

Gently place one Oreo stack in each individual silicone cupcake case (as pictured)

Mix up brownie mixture as per box instructions. I added an extra 1-2 tbsp of water to make the mix more liquid and easier to work with.

Spoon brownie mixture gently around each Oreo stack, beginning around the sides so as not to tip it over, then over the top to finish (as pictured)

Cook in slow cooker on HIGH for approx 45 mins or until brownie is set. Use Tea Towel Trick under lid.

Cool on wire wrack before removing from silicone cases. Imagine the surprise when others bite into these beauties and find the surprise centre!Watch our Peanut Butter & Oreo Brownie Video!