Submitted by Bianca Pavia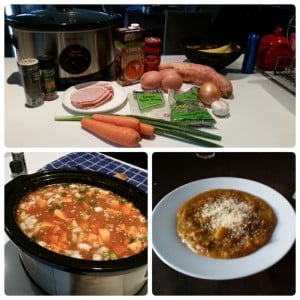 Pea, Ham and Sweet Potato Soup
Ingredients
1 large onion - Diced

3 cloves garlic, minced

1/2 teaspoon dried Parsley

1 -1/2 teaspoons kosher salt

1 teaspoon freshly ground black pepper

2 cups medium-diced carrots (3 to 4 carrots)

2-3 medium potatoes, peeled and cut into chunks or diced

1 and a half packet of dried split green peas

4 cups vegetable stock

2-4 cups of water

1 large Sweet potato

6-8 strip's of bacon diced (approx 1-1.5 cups)

1 tbsp tomato paste

2 spn Olive oil
Instructions
Brown bacon in a pan then place in slow cooker.

Add olive oil, potatoes, carrots, onion, spring onion, garlic, potatoes (both normal and sweet), spices and split peas to the slow cooker.

Top with liquid vegetable stock and then add 2-4 cups of water depending on the size of your slow cooker. (I needed 2.5 cups).

Add one tablespoon of tomato paste and stir through.

Cook on high for 3 hours until soup starts to thicken up, then place slow cooker on low for another 1-2 depending desired consistency. Stir frequently to mix the peas.

Lots of flavour, lovely served with Garlic bread and Parmesan Cheese.