Submitted by Adeline Clark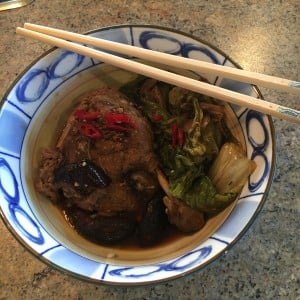 Chinese braised duck with mushrooms
Ingredients
2 duck Marylands

1 tabsp light soy sauce (Gluten free variety if GF)

1 tsp dark soy sauce

1 tabsp Chinese cooking wine

1 tsp raw sugar

Half tsp Chinese 5-spice powder

Half tsp Sichuan pepper

1 thumb-sized piece young ginger, sliced

2 tsp minced garlic

4 large dried shiitake mushrooms, soaked in hot water

2 eshallots cut into 3 cm pieces
Instructions
Marinate duck Maryland pieces in soy sauces, cooking wine, sugar, Sichuan pepper and spice powder for an hour.

Squeeze water from mushrooms and cut into quarters. Reserve the mushroom water.

Sauté garlic and ginger. Lift duck from marinade and add to fry pan, brown the duck pieces. Add marinade and 1cup of mushroom water, and simmer 1 minute.

Put mushrooms in slow cooker (1.5lt size) and place duck, garlic, ginger and liquid on top.

Add eshallots .

Cook on low for 4-5 hours. Skim off the fat and thicken the sauce with cornflour.

Optional: Add lettuce leaves ( I use the tough outer leaves) or some sliced wongbok leaves and cook till soft.

Serve with steamed rice or egg noodles.