Submitted by Candice Burgess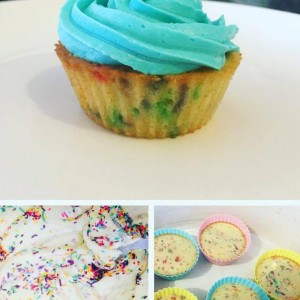 Bubble Gum Cupcakes With Sprinkles
Ingredients
1 2/3 cups Plain flour (240 gms)

1 cup sugar (200gms)

1/4 tsp baking soda

1 tsp baking powder

3/4 cup salted butter, room temperature (170 gms)

3 egg whites

1 tsp vanilla extract or 1 tbs of Vanilla essence

1/2 cup sour cream

1/2 cup milk

1/2 Cup of sprinkles
Icing
2 cups unsalted butter

4 tbs Milk

5 cups Icing sugar

1/2 Teaspoon Vanilla Extract

A few drops of Blue food dye and a few drops of Bubblegum Essence
Instructions
I preheated Slow Cooker for about 15 mins

Tea Towel under lid - Tea Towel Trick

My slow cooker seems to cook quick, so keep an eye on them, I lifted lid to just peek and check how they were rising a few times, Careful not to let too much steam out though.

Whisk together flour, sugar, baking soda and baking powder in a large mixing bowl.

Add butter, egg whites, vanilla, sour cream and milk and mix on medium speed until smooth.

Gently fold in the sprinkles.

Fill cupcake liners a little more than half way. ( I used silicone )

Slow cook on HIGH for 50 mins to an hours pending on your slow cooker with a tea towel under the lid, The cupcakes are light brown in colour around the edges.

While cupcakes cool, make icing.

Mix butter together for 3 minutes on medium,

Slowly add Icing sugar and mix until smooth.

Add milk, vanilla and food dye and mix well.

Ice cupcakes.
Note
The butter may make the cupcake batter slightly lumpy, You can leave for a few mins and then mix again for another 30 seconds.