Submitted by Suscha Benson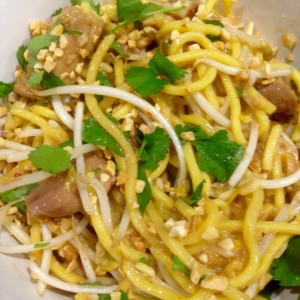 Pad Thai Noodles
Ingredients
Egg Noodles - 800grm - OR Rice Noodles - personal preference

1/2 Cup Brown Sugar

1/2 Cup Mild Chili Sauce

1/2 Cup Fish Sauce

2 Tablespoons Tomato Sauce

4 Teaspoons Soy Sauce

2 Eggs - beaten in a cup

4 Cloves Crushed Garlic (2 heaped tablespoons minced jar garlic)

2 Tablespoons Grated Ginger

1 Cup Chicken stock

1 bunch chopped spring onions

400-500g Diced Chicken pieces - Thigh preferred

300g Bean Sprouts

Handful of chopped Coriander

1/2 - 1 Cup of chopped nuts
Instructions
Combine the Brown Sugar, Chili Sauce, Fish sauce, Tomato Sauce and Soy Sauce in the Slow cooker bowl on high - stir occasionally until the sugar is dissolved.

Stir in the Garlic and Ginger - add the chicken pieces and stir to coat.

Pour the beaten eggs over the top and leave it to set for about 25-35 minutes.

Once egg starts setting - stir egg through.

At the 1 hour mark pour 1 cup of Chicken stock to bowl and stir through ingredients.

Lay egg Noodles on top then add chopped spring onions.

At 1 hour and 20 minutes stir egg noodles through chicken mixture - most will break up easily, add bean sprouts to top.

At 1.30 hours stir the egg noodles and bean sprouts through chicken mixture.

Serve topped with fresh Coriander and chopped nuts.

ENJOY!