Submitted by Libby Della-Maddalena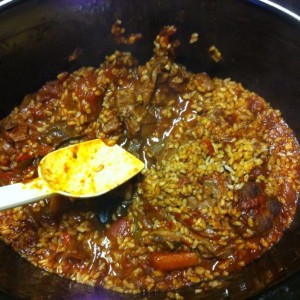 Osso Buco
Ingredients
4 cross-cut veal shanks

Pinch of salt

Plain flour for dusting

4 table spoons olive oil

1 onion sliced

2 cans peeled tomato's

1 large orange juiced

1 cup red wine.
Instructions
Dust veal shanks with the flour. Heat oil in a pan and saut the veal shanks 2 at a time on both sides (taking care not to damage the marrow in the center). Remove the shanks and put them in your slow cooker.

In the same oil saut the onion until transparent then add the tomato's, breaking them up with a wooden spoon while cooking. Cook over high heat so that the tomato's reduce. Pour in your orange juice and your red wine and stir.

Pour in into your slow cooker over your shanks and put on high for 6-8 hours.

I had mine with brown rice but you can also have it with mashed potato.