Submitted by Sandi Roberts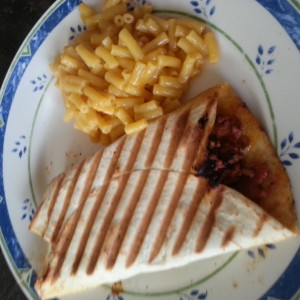 Bacon Cheeseburger wraps
Ingredients
1 kilo Beef Mince

300 grams chopped Cooked bacon

6 tablespoons Tomato Sauce

3 Tablespoons BBQ Sauce

2 Tablespoons Worcestershire Sauce

3 teaspoons onion Powder

Salt and pepper to taste.

6 flat bread style wraps (tortillas are Fine)

1 cup shredded tasty cheese ( can use any cheese though)

2 sliced Tomatoes

1 small shredded lettuce (Optional)

Mustard for serving (Optional)
Instructions
Turn Slow Cooker on High.

Take Mince place in SC break up as much as you can. Leave for 20 minutes then stir again. Repeat.

When Mince is nearly cooked through drain any fat, if using a cheaper cut. If not add chopped Bacon. I prefer to cook this in a pan to eliminate some of the fat first- but its not necessary.

Make sauce by combining sauces, onion powder and Salt & Pepper.

Add to Slow cooker.

Turn down to Low. Leave about 2 hours lid on- no tea towel needed.

when all cooked through give a good stir.

Take Tortillas, add small amount of shredded lettuce in the centre.

Place 3 tablespoons of meat on top.

Then Cheese (and mustard if desired)

Add Tomato, then roll up wrap to resemble a burrito.

You can eat at this point OR....

Toast in a flat Toasted Sandwich press.

Serve with salad and chips!