Submitted by Cassandra van Breugel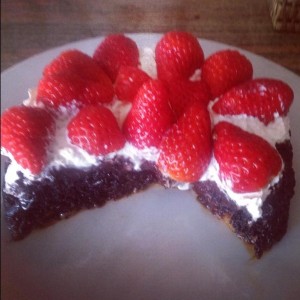 No egg,butter or milk chocolate cake
Ingredients
1 1/2 Cups plain flour (all-purpose)

3 Tbsp. cocoa (unsweetened)

1 Cup sugar

1 tsp. baking soda

1/2 tsp. salt

1 tsp. white vinegar

1 tsp. pure vanilla extract

5 Tbsp. vegetable oil

1 Cup water
Instructions
Mix first 5 dry ingredients into a lined slow cooker or a tin that fits within your slow cooker .

Make 3 holes in dry ingredients - two small, one larger .Pour vinegar in one hole vanilla in the other and the vegetable oil in third larger hole . Pour water over all. Mix well until smooth.

Place teatowel or dish cloth or kitchen towel under lid and cook for 1 1/2 hours

Add flaked chocolate for last 10 minutes to the top if desired.