Submitted by Eleni Edwards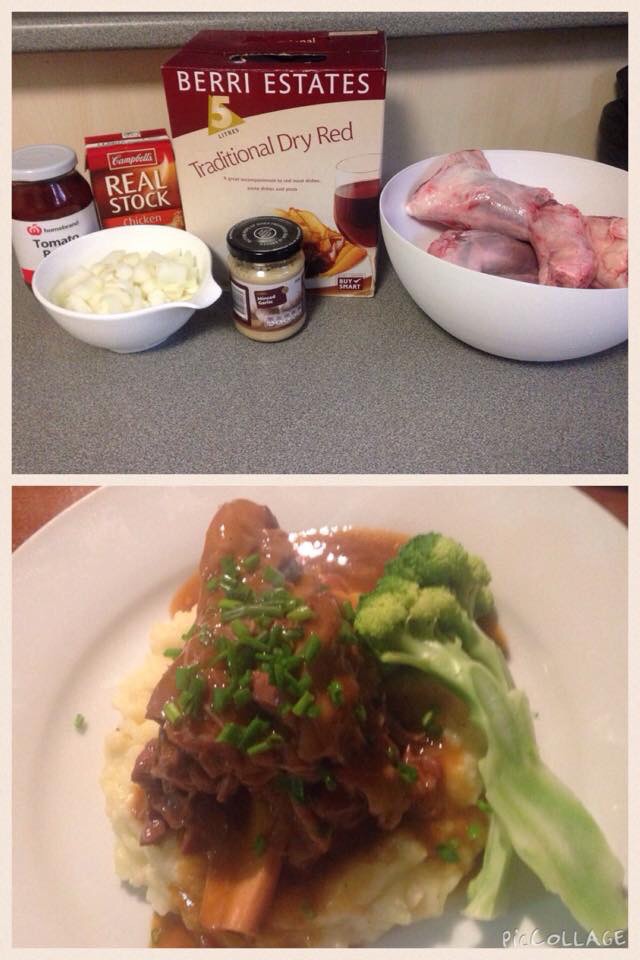 Mum's Lamb Shanks
Ingredients
6 Lamb shanks

2 large onions

2 heaped teaspoons garlic

3 heaped teaspoons tomato paste

1 cup red wine

2 cups stock

Few dashes Worcestershire to taste

2-3 tablespoons flour

Salt and pepper to taste
Instructions
1. Brown lamb shanks in slow cooker/pan then remove. Coat lamb in flour, salt and pepper.

2. Brown onions and garlic in slow cooker/pan. Mix through tomato paste for a few minutes.

3. Add wine and stock and bring to a boil.

4. Add the lamb shanks and cook on high until meat falls apart from the bone.

5. Add Worcestershire to pot and stir through.

At this stage if your sauce is still runny, add a bit of cornflour to thicken.

(Cooking: I would assume 6-8 hours. I have a slow cooker/pressure cooker so it cooked in just over an hour).

Served with Slow Cooked Parmesan Mashed Potatoes (from this site) and Steamed Broccoli.

Enjoy!